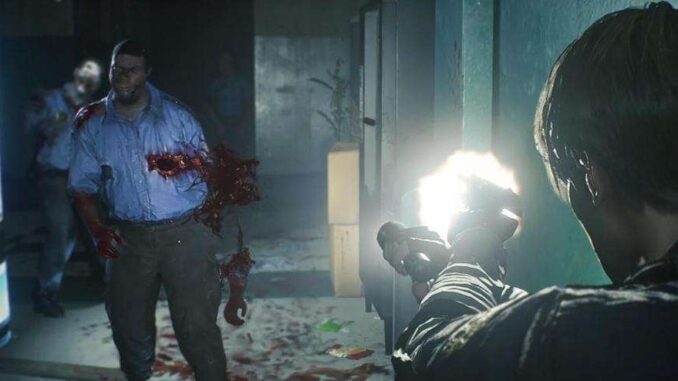 Resident Evil 2 Remake (2019) has 127 Collectible Locations: 58 Files, 15 Mr. Raccoons, 8 Safe Locks, 6 Inventory Upgrades, 2 Portal Safes, 6 Maps, 32 Key Items.
Resident Evil 2 Guides:
All Collectible Locations
This guide shows them all in chronological order. Each of the 4 campaigns contains unique collectibles. We'll go through them in this order: Leon A, Claire A, Leon B, Claire B.
Stick to that order as will be pointed out in the video when a new character campaign starts.
Finding Resident Evil 2 Collectibles unlocks the following trophies & achievements:
A Waist of Space – Expand inventory slots to max.
Lore Explorer – Read all of the files.
Vermin Extermination – Destroy a Mr. Raccoon.
Complete Vermin Extermination – Destroy all Mr. Raccoons.
Master of Unlocking – Open all of the safes and locks in the game.
Timeline:

F = File
U = Inventory Upgrade
R = Raccoon
S = Safe Lock
PS = Portable Safe
M = Map
Name = Key Item Name
Leon A
#1 – F1 – 0:05
#2 – F2 – 0:38
#3 – Lion Statue – 1:00
#4 – F3 – 1:38
#5 – M1 – 1:58
#6 – F4 – 2:06
#7 – F5 – 2:27
#8 – F6 – 2:42
#9/#10 – S1 & S2 – 3:00
#11/#12 – S3 & U1 – 3:41
#13 – R1 – 4:20
#14 – F7 – 4:40
#15 – F8 – 4:55
#16 – S4 – 5:11
#17 – F9 – 5:36
#18 – PS – 5:51
#19 – S5 – 6:36
#20 – Blue Key – 7:09
#21 – F10 – 7:21
#22 – U2 – 7:38
#23 – F11 – 7:58
#24 – M2 – 8:09
#25 – Unicorn Statue – 8:23
#26 – F12 – 8:50
#27 – S6 – 9:05
#28 – F13 – 9:38
#29 – Weapons Locker Keycard – 9:53
#30 – Cutting Tool – 10:33
#31 – Round Handle – 10:46
#32 – Electrical Part – 11:02
#33 – Battery – 11:26
#34 – F14 – 11:50
#35 – R2 – 12:07
#36 – Electronic Gadget – 12:22
#37 – Maiden Statue – 12:54
#38 – U3 – 14:24
#39 – M3 – 14:39
#40 – F15 – 14:59
#41 – Tool – 15:12
#42 – F16 – 15:26
#43 – Purple Key – 15:47
#44 – Electronic Part – 16:10
#45 – F17 – 16:35
#46 – F18 – 16:51
#47 – R3 – 17:04
#48 – Car Key – 17:22
#49 – R4 – 18:10
#50 – Electrical Part – 18:27
#51 – R5 – 18:53
#52 – Large Gear – 19:23
#53 – Green Key – 19:38
#54 – Red Book – 19:52
#55 – Red Jewel – 20:05
#56 – STARS Badge – 21:10
#57 – F19 – 21:48
#58 – F20 – 22:01
#59 – PS – 23:00
#60 – U4 – 23:43
#61 – Tool – 24:27
#62 – F21 – 24:46
#63 – R6 – 25:52
#64 – Electronic Part – 26:21
#65 – F22 – 28:17
#66/#67 – F23 & Parking Key Card – 29:12
#68 – R7 – 29:29
#69 – F24 – 29:54
#70 – R8 – 30:29
#71 – F25 – 30:51
#72 – F26 – 31:11
#73 – S7 – 31:28
#74 – M4 – 31:56
#75 – F27 – 32:10
#76 – F28 – 32:25
#77 – T-Bar Valve Handle – 32:37
#78 – F29 – 32:54
#79 – S8 – 33:11
#80 – Sewers Key – 33:45
#81 – R9 – 34:17
#82 – King Plug / Queen Plug – 34:38
#83 – U5 – 36:29
#84 – F30 – 37:06
#85 – Rook Plug – 37:32
#Chess Plugs Puzzle – 37:46
#86 – F31 – 39:26
#87 – F32 – 39:48
#88 – M5 – 40:14
#89 – R10 – 40:33
#90 – Electronic Chip – 40:50
#91 – F33 – 41:10
#92 – Dispersal Cartridge – 41:27
#Lab Puzzle – 42:10
#93 – F34 – 43:10
#94 – M6 – 43:23
#95 – F35 – 43:43
#96 – Signal Modulator – 43:56
#97 – F36 – 44:07
#98 – Herbicide – 44:52
#99 – Senior Staff ID – 45:34
#100 – F37 – 46:16
#101 – U6 – 46:36
#102 – R11 – 46:36
#103 – F38 – 46:36
#104 – F39 – 47:38
#105 – F40 – 48:15
Claire A
#106 – F41 – 48:42
#107 – F42 – 48:58
#108 – F43 – 49:26
#109 – F44 – 49:40
#110 – F45 – 49:57
#111 – F46 – 50:15
#112 – R12 – 50:33
#113 – F47 – 50:57
#114 – F48 – 51:18
#115 – F49 – 51:39
#116 – R13 – 51:54
#117 – R14 – 52:21
#118 – F50 – 52:46
#119 – F51 – 53:03
#120 – F52 – 53:22
Leon B
#121 – R15 – 53:51
#122 – F53 – 54:29
#123 – F54 – 54:44
#124 – F55 – 55:03
#125 – F56 – 55:24
Claire B

#126 – F57 – 56:00
#127 – F58 – 56:23