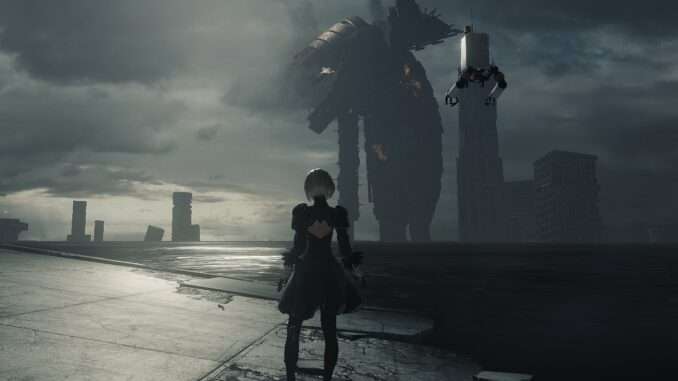 Relationship of 2B and 9S
If you think 2B is the stereotypical serious ♥, you're wrong, as Yoko Taro never makes such characters protagonists. It's not as simple as it seems, and her relationship with her partner is not so obvious.
Yes, I believe that the relationship between 2B and 9S is much more than friendly, and a lot of simple things show that. For example, in the prologue and the beginning of the game, she constantly asks to stop calling her ma'am and talks about how there's no need to be so formal. This speaks to her desire to remember any little things that reunited them in the past, before she had to kill 9S.
In the amusement park location, 9S reveals that many people in Yorha call him Nines since someone gave him that nickname a long time ago, but 2B refuses to call him Nines because she doesn't want to reveal her true feelings to him.
In the forest kingdom location, she accidentally stipulates and calls him Nines, but tries to avoid the conversation. Through this simple disclaimer, it becomes clear that it was 2B who gave 9S this nickname.
In the A and B ending, 2B says he will lose 9S as he currently exists, and in C and D we learn that 2B is actually a 2E unit created to eliminate Yorha's androids. In the prologue, 2B kills 9S by connecting their black box. In the third playthrough, 9S will attempt to kill 2B and her operator 21O.
All these facts make us realize that 2B is ordered to kill 9S again and again and the reason for this is 9S's curiosity and perfection as a scanner module, as he is the one who is destined to find out the truth about the Yorha project. Because of this, 2B is forced to kill him every time he finds out the secret information, crying and relocating the pain of having to kill the one she is in love with again.
9S's reciprocal feelings for 2B are revealed mostly by his emotions, but he as a character has a more open nature. The following sentence, the question Adam asks him, is worth noting:

"Censored" is a word that can be interpreted very differently. Love, Hate, Kill, ♥… It's just as hard to know what's meant from the context. This is done not only so that the reader can guess himself, but also to show the ambiguity and versatility of human feelings: where there is love, there is hate, and intimate relations, and sometimes even murder.
Many facts refer to such diversity: for example, how 9S killed 2B with rage in the third passage. In endings A and B, 2B affectionately strokes 9S's face before strangling him, and also the pose in which she strangles him is somewhat reminiscent of a bed scene. So too the method of killing: strangulation, can be viewed with a somewhat erotic overlay.
There is an example of this: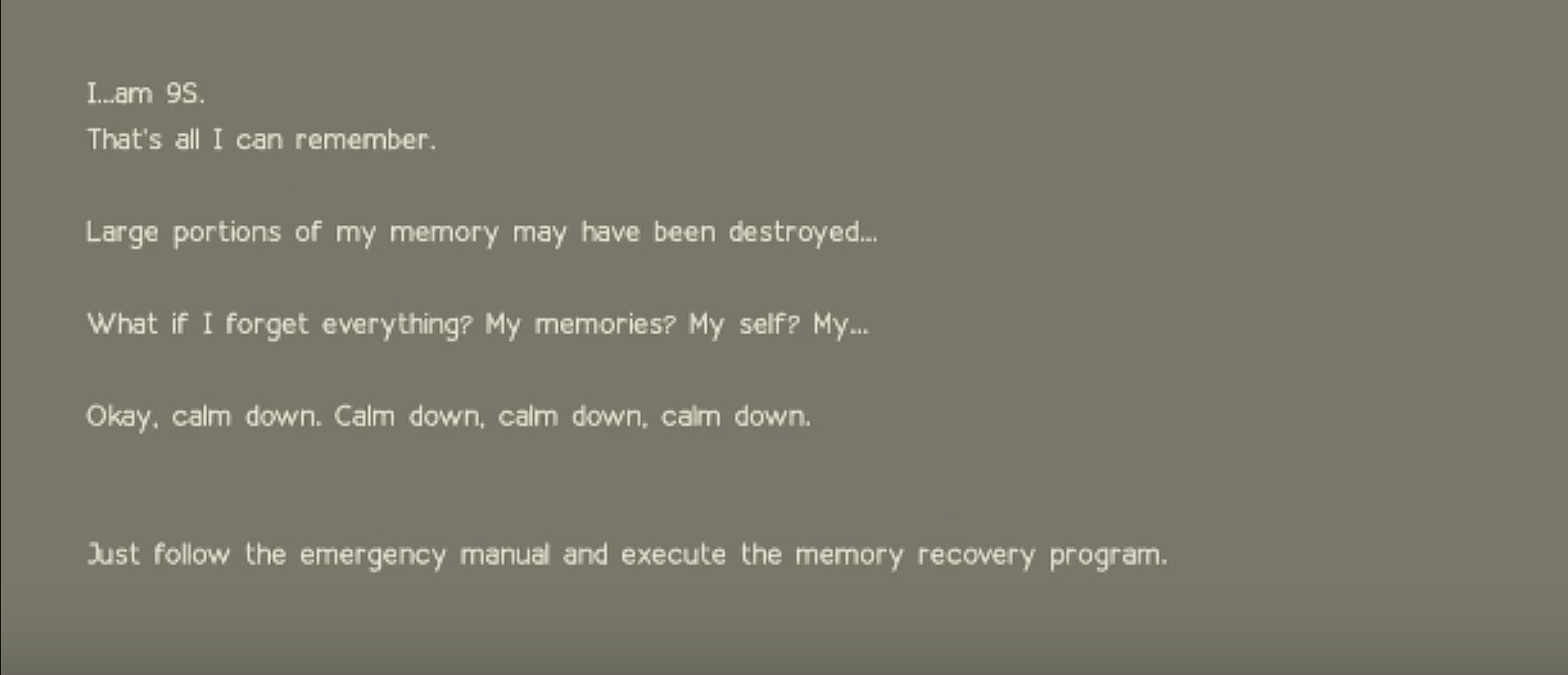 In this fragment we see that 9S has a special memory wipe program. He also says a sentence that he doesn't finish:
"What if I forget everything? My memories? Myself? My/my/my/my…"
Again, it's up to the player to figure out what he was trying to say, but I think it's possible he's talking about his feelings for 2B.
His further monologue only reinforces the theme of the importance of memories. After all, in real life, memories are what make us who we are. I go back to the beginning of the text and am reminded of 2B's phrase that she will lose 9S as he is at this moment. It is now clear exactly what she meant.