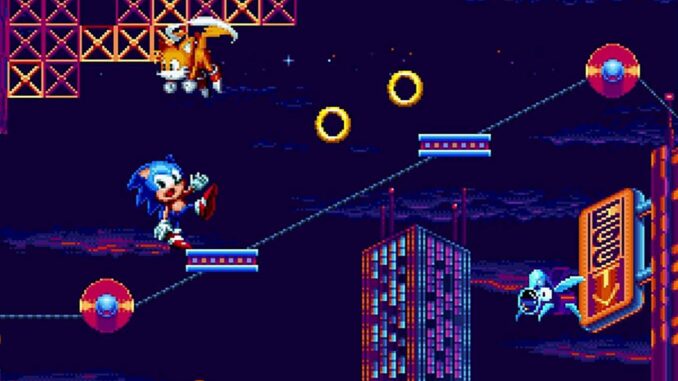 This is a guide on the attack patterns of bosses and how to defeat them.
Green Hill Zone
Act I
The boss of act I is similar to the boss of the original Green Hill Zone. It appears as two balls linked together, and one will swing the other back and forth. One will become red and harmful, and after a few seconds, they switch which is harmful, then they both become harmful and spin in the center of the screen, then repeat the same pattern. If you defeat one of the balls, the other will change their attack pattern. They will float to the top corner of the screen, become harmful, and bounce three times in the other direction, and become vulnerable. It repeats this behavior until defeated.
Act II
The boss of act II is the Death Egg Robo, the final boss of Sonic 2. Don't worry, you won't get destroyed instantly. It lands at the left of the screen and walks to the right, destroying any obstacles in its path. It will create crosshairs where you were, and either launch bombs or fire its arm. Avoid the bombs, or jump on its arm and attack the head. A much quicker method is to damage boost attack it until you win. If you take too long to defeat it, you will reach a cliff and fall to your death.
Chemical Plant Zone
Act I
The act I boss is a triangular mech that falls from the top of the screen and into the blue goop below. It will move and emerge, bouncing three times while covered in this dangerous goop. After that the goop will become a ring of blue orbs, and you can safely attack while avoiding the orbs, after a few seconds it will shoot the orbs everywhere, then fall back into the goop and repeat the cycle.
Act II
The act II boss isn't a traditional boss, rather a game of Robotnik's Mean Bean Machine, or Puyo Puyo, against Robotnik. To play the game, you match four colors of puyo, and doing so destroys them and drops useless black puyo on the opponents board. If you match puyo next to black puyo, it clears them. By stacking puyo in ways to create a combo, far more black puyo will cover your opponent. This boss is set very easy, so if you don't completely get how to be good at Puyp Puyo, you won't have much of a problem.
Studiopolis Zone
Act I
The act I boss is the first Hard Boiled Heavy, Heavy Gunner. He is a policeman in a helicopter, surrounded by other egg robos. You cannot directly attack him. Instead, you must wait for him to fire missiles, avoid the long red ones, and attack the short blue ones to fire it back at him. After hitting an egg robo, you will move to a different area, collect some rings, and do the cycle over until the boss is defeated.
Act II
This boss is Robotnik piloting a weathervane-like ship. The screen in the background will display three different types of weather; sunny, windy, or stormy. The sunny weather will cause lamps at the top to heat up, and to stay safe stay directly below Robotnik, and he will lower due to the heat, making him easier to hit. The windy weather will cause a gust to rise from the bottom of the arena, and blow you upwards. To keep from hitting spikes on the top of the ceiling, maneuver to the metal poles on either side of the television and wait. The stormy weather causes storm clouds to appear above you and fire lightning straight down. Avoid these strikes. As sonic or tails, you can jump high enough to attack Robotnik at any time, but as Knuckles, you have to wait for sunny weather to be able to reach him.
Flying Battery Zone
Act I
This boss is a trash compacter that will periodically rise. Your target is the electric machine above you. You must wait for the compacter to compress the trash enough for you to be able to reach the machine. Every so often, the machine will become harmful and create a trash orbinaut, which is easile beat.
Act II
This boss is Robotnik piloting a giant spider bumper machine, which isn't directly damagable. The arena is constantly scrolling up, revealing walls of spikes and rotating rods. To damage the boss, you must use momentum from spin dashing or using the rotating rods to slam the mech into the spike walls. His attack pattern is to either fire balls of thunder, or to fall down within reach.
Press Garden Zone
Act I
This boss is a sawblade mech, which will constantly defend itself with it's ice saws. It will lunge its nearest saw towards you if you stand still. To cause him to become vulnerable, you must force him to hit a green and gold box by standing behind it. This will shatter his saw, making him vulnerable to attack.
Act II
This boss is the second Hard Boiled Heavy, Heavy Shinobi. This boss will constantly jump around, and freezes you if you get too close. To make him vulnurable, you must hit him mid-jump, causing him to stutter for a moment, where you may then harm him. After being damaged, he will throw Asteron badniks mid-jump, which will explode after a few seconds.
Stardust Speedway Zone
Act I
This boss is a giant Hotaru badnik, which appears at the start, then flys away. After that, he summons a small Hotaru badnik, which behaves similar to the badnik from earlier in the zone. After defeating the first one, two more will appear, causing an electric link between them. Defeating them isn't necessary. After the two Hotaru are gone, the larger Hotaru appears, and is attackable. He will create a massive laser below it and sweep from one side to the other, then fly away and restart the cycle.
Act II
Okay. Here's Metal Sonic. This is a long one. After destroying the projector showing him, he will appear, and you will run along a long strip while he does various attacks described later.
After a short journey, he will lock himself into a machine, which produces mini silver sonics. They will either extend their arm then normal dash, or spin dash wildly. You can kill them in one hit, but this does nothing. To damage Metal Sonic, you must launch a silver sonic into him. By charging a spin dash once while a sliver sonic is in the spawn position, you can knock them directly into Metal.
After breaking the machine, you go through another short running section until you reach the top of the tower.
Upon reaching the top of the tower, a wall of spikes will appear to the left. it will move, and now you're racing. Metal sonic will either
Roll into a ball and bounce forward, then become vulnerable.
Dast straight forward covered in bright light, then become vulnerable.
Fire three electric balls, then become vulnerable.
After hitting him enough times, the fight is over.
Hydrocity Zone
Act I
This boss is Robotnik in a diving suit laying down bombs. The first phase starts with Robotnik blowing up columns, causing you to have to run through a small gauntlet, much like in Marbe Garden Zone from Sonic 3. After reaching the end, you get in a mech, which was the act II boss from Hydrocity in Sonic 3. The tables have turned. The jump button is used to create a vortex, and down drops mines behind you. Your goal is to suck up Robotnik while avoiding the mines he keeps laying.
Act II
This boss is Robotnik piloting a machine with a large fan. The first phase takes place underwater, with Robotnik blowing you down an underwater path. In order to damage him, you must dodge blocks and spikes and hit bombs, then lure Robotnik into hitting the mines. If he hits a mine, it releases an air bubble, allowing you to survive. After hitting him enough times, you are launched into a halfpipe arena, fighting the same boss as the miniboss from Hyrdocity act I from Sonic 3. He will fall from his perch and go along the walls and ground a number of times before landing on the pillar and becoming vulnerable. After a couple seconds, he will create a vortex in the water, trapping you, and draining your oxygen. Then he will repeat his behavior.