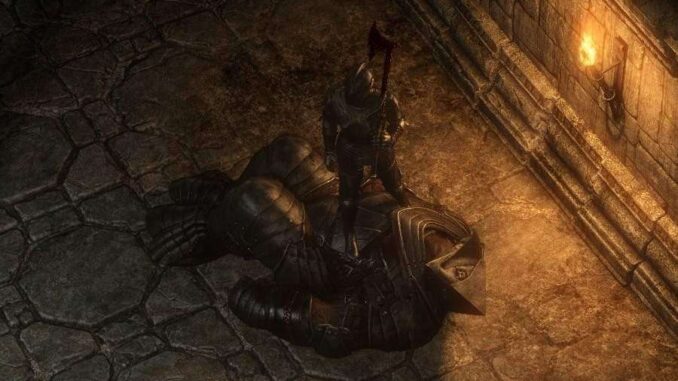 In the process of studying thaumaturgy, I found a way to move to another body forever. Also figured out how to multiply your junk.
Permanent Possession and a Copying Items
Important Nuance
I hope you understand that having moved, all the skills of the previous body will not pass to the new one, and the ability to thaumaturgy accordingly, too. And yes, Derrin won't want to talk to you anymore.
It is also worth mentioning that you can't play for a skeleton or an ancient, they become overgrown with meat after the correct implementation of the moving in (although the ancient continues to growl). Only zombie not regenerates. Sometimes underwear is lost, usually enough put on pants or re-enter the game.
For the dupe, before moving in, cram everything you want to copy into the desired corpse, but it is advisable not to copy items with cells for crystals. Due to the fact that the items are identical, the inserted crystal fills the cells in both items, which does not allow you to insert the second one. However, you can try to fix it somehow.
And if you copy the containers, they will have a common inventory, which even through the floors remains common.
With consumables and common items nothing happens.
The Sequence of Actions for Moving in and Dupe
Use Command Dead on the desired corpse, and immediately cast Possesion.
Having settle in, use the Spirit Form, wait until the concentration runs out.
After waiting, go to another location (this is necessary for the disappearance of the original body). After transition, re-enter the company (this is for save), already here you will see a new yourself, and the skills of a new body.
Next to you will appear a double, it must be killed, preferably with fists or weapons that are not sorry, it will disappear when the double dies.
The principle of the dupe is that the inventory that is closed last is duplicated in another (the corpse of the double). Open your inventory first, move the trash from the corpse to your inventory (or better throw it on the floor) and close your inventory last, repeat. Copy at least until the room is completely filled with heal jars.
This item can be skipped if you just need to change your body.
To make the double disappear, go to another location (after going, you can re-enter the campaign, just in case) returning back, you can start bathing in copy items.