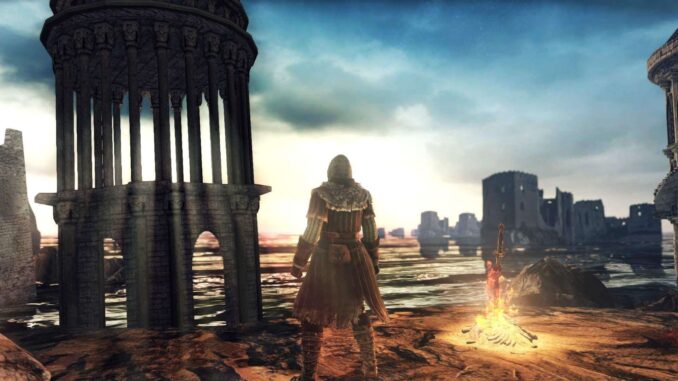 This guide is about early soul farming in Dark Souls II: Scholar of the First Sin.
How to Farm Souls
Before Starting You Need
Shield with decent physical block.
Serpent ring if you have.
Heide's ruin bonfire.
Beaten Dragon knight rider boss.
Heide's Ruin Farm
From Majula head down into the sewers and continue until you reach Heide's ruin and activate the bonfire.
From their ignore the enemies and follow the straight path until you reach the circle like structure. The white knight and two bigger enemies will be chasing you from these spots.
Note: White knights only move around once Dragon rider is dead.
The Ledge
Near the circle like structure just up ahead is a small ledge you can stand on.
If you hold the shield button and wait for them to attack you they'll fall off and give you souls.
Shield in progress:
Optional Part
If you want you can lead the enemies inside the circle structure to the ledge and do the same but it's more risky as they can hit you through the wall.
Rest at bonfire
Once they have all fell off and you got your souls you can rest back at the bonfire and repeat.
Profit
10-15 minutes can get you 10,000+ souls. Not bad for a beginner spot.